Flowering Tea
Flowering teas originally come from Yunnan province, China. They are most interesting looking teas of all times.
Flowering teas are made and tied by hand mostly using green tea leaves and edible flowers.
Green Tea leaves are shaped around edible flowers and tied well in order to make a round shaped ball.
Once infused in hot water they open up and look like blooming flowers! Magnificent and beautiful!
Our flowering tea has approximately 20mg caffeine per cup.
How to brew it: Place a flowering pod in a clear glass cup or teapot, so you could see how beautiful the whole process looks.
Boil water to 100 degrees and brew for 5 minutes.
Enjoy!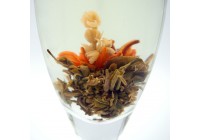 Showing 1 to 4 of 4 (1 Pages)