Fruit Tea
Fruit teas and infusions can be consumed hot or cold!
We offer a wide selection of loose fuit infusions that are made from dried fruits and herbs.
Natural flavours only! Fruit infusions are great when it's winter or summer!
Our fruit infusions are rich in vitamin C and improves immune system.
We did our best to make a great selection of different fruit blends for someone who likes rich and spicy flavours
and for those of you who like more smooth and sweet.
This selection doesn't have caffeine and infusions can be enjoyed at any time of the day!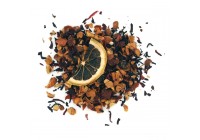 Showing 1 to 7 of 7 (1 Pages)