Green Tea
Green tea comes from Camellia Sinensis tea plant.
There are two types of Camellia Sinensis tea plants - Camellia Sinensis Sinensis that green teas and whites teas are made from
and Camellia Sinensis Assamica from which black teas are produced.
Camellia Sinensis tea plant first originated in China have smaller leaves.
Green tea is produced by pan-frying or steaming leaves, then leaves are dried in order to prevent them from oxidation,
which changes leaves colour and reduces it's freshness.
We offer a great selection of loose leaf green teas that come from Japan, China and Sri Lanka.
Taste varies from grassy, nutty to smooth floral.
Whatever your taste buds are, we strongly believe you will find a perfect tea for yourself.
Keep in mind, green tea has a lot of health benefits and is a great addition to your healthy lifestyle!
This Loose Green Tea section has low caffeine content.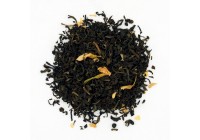 Showing 1 to 5 of 5 (1 Pages)