Herbal Tea
Herbal teas are also referred to as herbal infusions or tisanes are made from herbal flowers, roots and leaves.
Herbs are infused using boiled water and brewed for up to 6 minutes for the best flavour.
Herbal teas first became popular in China and Ancient Egyp where it has been used as a medicine and goes back around 2000 years.
Herbal infusions became so popular that even europeans started using them in 17th century.
Herbal teas have various health benefits and can also be enjoyed at any time as they don't have any caffeine.
We offer a great range of herbal flowers, leaves and roots.
We only focus on loose leaf organic herbal infusions and blends.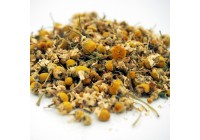 Showing 1 to 4 of 4 (1 Pages)